Durable fashion with Kero
Imagine a pair of shoes that just gets better with age! With feeling and respect for material and craftsmanship, Kero creates durable and trendy products that just look better with use.
Read more
Sustainable Heart of Lapland
The benefits of living sustainable and experiencing eco-friendly travel is not just a buzz, it makes good for you. But how can you tell this destination, Heart of Lapland, is your go-to destination when looking for sustainable options for your upcoming trip?
Read more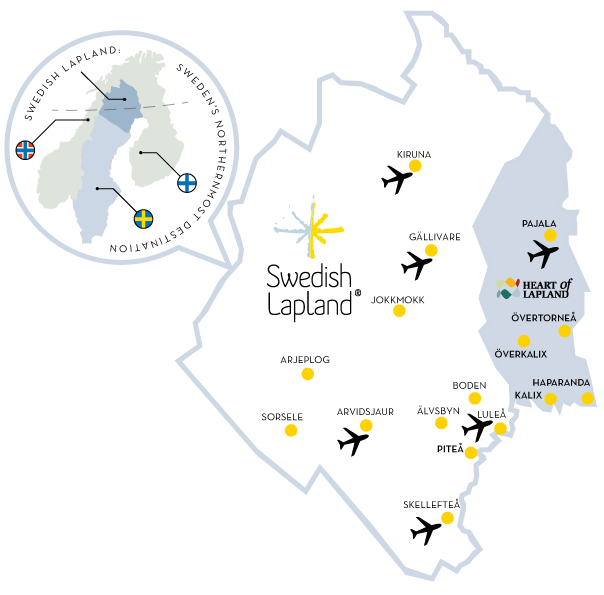 What and where
is Heart of Lapland?
– the eastern part of Swedish Lapland
It is said that each place has its own charm, and no one would disagree when we say that Heart of Lapland is a very charming place indeed. Feel a sense of warmth, despite sub-zero temperatures. When winter is opening up its arms in a welcoming embrace, at a time when snow makes it simple and fun to travel to places hard to reach in the summer. The lavish wild national rivers, Kalix River and Torne River have frozen over, offering ample expanses for play and adventure. Or come along on a voyage of discovery in the archipelago along excellent snowmobile trails on the sea ice. If you're looking for a destination that allows you to live close to nature, and be surrounded by locals who love to share their arctic lifestyle – look no further. Welcome to Heart of Lapland.
Find out more
Heart of Lapland in brief numbers
85000
salmon is running annually Torne and Kalix river every year
297
kilometers of border river between Sweden and Finland
16163
square kilometers is the size of Heart of Lapland
1444
islands in the archipelago